BiTS Workshop Steering Committee
The Burn-in and Test Strategies (BiTS) Workshop Committee welcomes any comments or questions you may have. Our goal is to produce the best possible conference.
General Chair
Feldman Engineering Corp.
+1 (650) 472-1192
Technical Program
Ashok Kabadi, Co-Chair
AK Technology (AKT) Leadership
Marc Moessinger
Advantest
Ila Pal, Co-Chair
Ironwood Electronics
Frederick Taber
General Chair Emeritus
Taber Consulting
James Tong
Texas Instruments
Registration
Cody Jacob, Chair
Test Tooling Solutions
Paul Boyce
Advantage Specialist
TestConX Workshop Registration Office
+1 (650) 690-2395
Marketing
Debbora Ahlgren, Chair
Thermo Fisher Scientific
BiTS EXPO
Owen Prillaman, Chair
TechConnect Sales and Distribution Inc.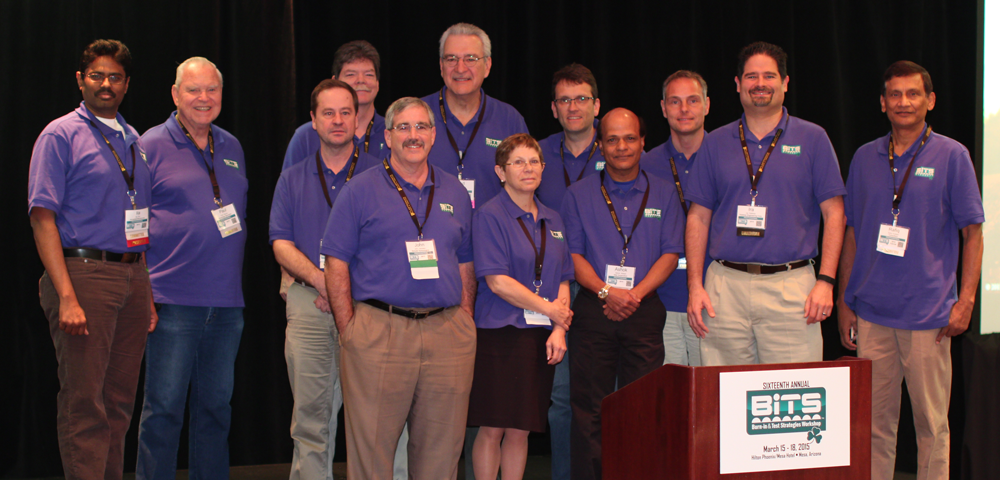 BiTS 2015 Committee
- Left to right: Ila Pal, Paul Boyce, Mike Noel, Owen Prillaman, John Hartstein, Fred Taber, Deb Ahlgren, Valts Treibergs, Ashok Kabadi, Marc Moessinger, Ira Feldman, Rafiq Hussain. -- Not pictured: Morten Jensen